Charles Henry McLean ~ Funeral reading transcription,
written in Florence D. McLain McLean's handwriting
Mr. Charles Henry McLean, husband of Mrs. Florence McLean, was born at Meadow Run at Jackson Co., Ohio, May 19,1896, departed this life June 24, 1937 at the age of 41 years, 1 month, 7 days. He was a good neighbor, was kind and generous to all his friends. He was always ready in sickness or death to help his friends in need. He leaves of his family his wife, Mrs. Florence McLean and 5 (five) children, William, age 9, James, age 7, Janet, age 5, Ruth, Age 2, Delores, Age 8 months, and one brother, John McLean of Southville, PA. and one sister, Mrs. Mary Rivers of Sugar Creek (Poston), also a hostess of relatives and friends to mourn his loss.
Beautiful angels our sorrows are sore,

Weeping for one who will weep never more,

Beautiful Angels on pinions of light,

Wait til we whisper our daddy and husband Goodnight
Hand written notes on Charles H. McLean (written by Ruth?)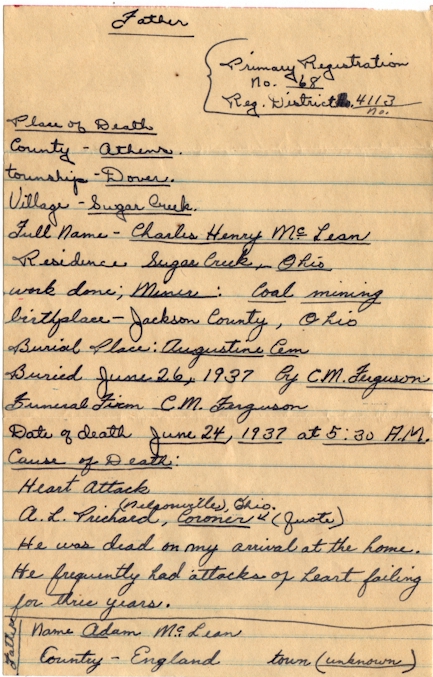 Page 2 of 2
*In the below document, Ruth wrote Sarah's surname as Carpenter. We know from other documents tat she also used the last name of Wilson. Her mother was a Wilson as were her grandparents.